We specialise in disability adaptations and have years of experience working with local authorities and charities on various projects, as well as individual customers.
Whether you are a commercial or domestic customer, our disabled adaptation service is tailored to meet individual requirements and the recommendations made by professional advisors. We carry out major room changes to facilitate a particular disability, poor health, or frailty associated with age.
We understand that thinking about alterations can be stressful. We ensure our customers have complete peace of mind, that's why before we carry out any works we will explain the whole process to the customer, ensuring they are comfortable and happy with the works about to be carried out.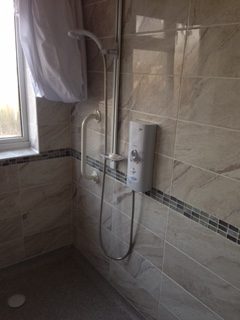 We provide a range of services from complete house re-design, to small adaptation works, including:
Wet rooms

Closo mats

Bio bidets

Door widening

Installation of special needs hygiene facilities

Interior and exterior access ramps

Grab rails

Kitchen adaptations

Door widening
Case Study
Mr D had been living in a home which his social worker described as 'something from the dark ages'. It was only when Mr D was taken home after he had been mugged, while collecting his pension in Nottingham, that his living conditions were discovered.
There was no gas, no electricity, a bucket for a toilet, and only a fireplace for cooking and heating water.  The windows upstairs were broken and the property was completely unsecured.
We worked with Age UK to complete a total refurbishment. We installed central heating , and reconnected the gas and electricity. We also installed a brand new kitchen and bathroom.
This case study demonstrates the range of services and flexibility we provide. Initially our project was to install central heating, however this soon expanded  to a full refurbishment, working with Age UK to ensure Mr D's home was in line with his individual needs.
It has made such a difference to my husband being able to shower safelyMr. & Mrs. G
Please thank your staff for the kindness shown to mum while the work was being doneMrs. K
They worked on my birthday and on return from their lunch break, surprised me with a cake Mr. C
Free Quotation
Get in touch today for a free no obligation quotation or call us on
0115 9797979 for advice
Fill in contact form